OUR PRODUCTS (DrTuna™ PRODUCTS)
To satisfy Malaysian palate, Dr.Tuna™ has come up with a range of yellowfin tuna-based products, suitable for Malaysians.
Our Leading Star: Tuna Satay (Meat on Skewer)
Satay is a seasoned, skewered and grilled meat served with a sauce which is very popular in Southeast Asia especially in Malaysia, Indonesia, Singapore and Brunei. The type of meat used is normally beef, chicken or lamb, and the sauce is typically made from ground peanuts.
With the introduction of Dr.Tuna™ Satay, Malaysians now have a healthier choice of this national favourite. Dr.Tuna™ Satay is seasoned with coriander, cumin, lemongrass, shallot, tumeric, ginger and other permitted flavouring to give it an authentic satay taste.
Dr.Tuna™ Satay is vacuum-packed and frozen in a pack of 10 sticks, with each stick weighs around 30 gram. You can cook the satay on a pan or in a microwave, or stick to old-fashioned method of satay preparation—grill it. For the more health-conscious consumers, you may even cook it in an air fryer.
Dr.Tuna™ Satay comes with complete HALAL Certification by the Department of Islamic Development of Malaysia (JAKIM), Hazard Analysis Critical Control Point (HACCP) Certification and Good Manufacturing Practice (GMP) Certification.
The Second-Lead Role: Tunarizzroll
A perfect snack on a rainy afternoon, Dr.Tuna™ Tunarizzroll is made from thin crepe covered with crispy breadcrumb filled with none other than Dr.Tuna™ Honey Yellowfin Satay (minus the skewer), fresh salad and specially-made sauce.
There are two types of sauces for you to choose—if you must choose: the creamy Carbonara or the sweet and spicy Black Pepper. Both are equally delicious!
Dr.Tuna™ Tunarizzroll is also available frozen. To enjoy the Tunarizzroll, thaw at room temperature for about 30 minutes and deep fry in hot oil. Each pack contains 4 pieces of rolls.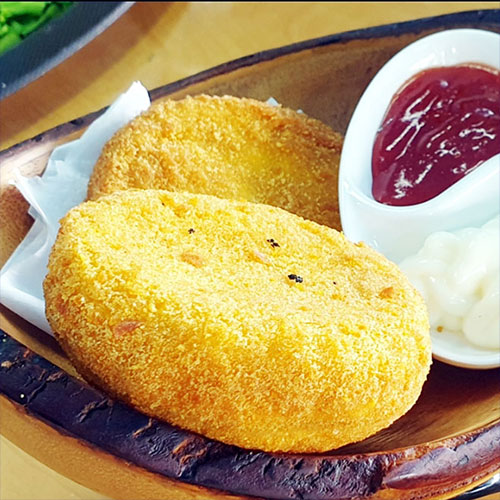 Dr.Tuna™ Tunabampuf is thinly sliced tuna loin heated in butter and seasoned with salt and pepper, then blanketed with a slice of white bread and moulded together with grated mozzarella, cheddar cheese slice, cheezy sauce and a special home-made white sauce.
To cook it, just dip it in whisked egg, roll it in cornflakes crumb and deep fry. Absolutely delicious and truly satisfies your craving for savoury treat.
Dr.Tuna™ Tunabampuf is currently available only in our café and kiosks.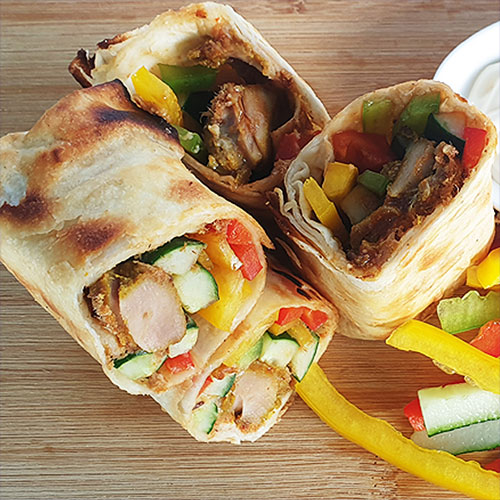 Special Appearance: TortunaWrap
Dr.Tuna™ Tortuna Wrap is another item that is only availabe in our café and kiosks. To make this flavourful snack, we use an 8" tortilla filled with the Dr.Tuna™ Satay (original flavour), diced capsicum and Japanese cucumber. Not forgetting the special sauce, the rolled tortilla is then baked to retain the taste of the yellowfin tuna satay.
Tortuna Wrap is best served straight from the oven, so head over to our café to enjoy this mouth-watering snack.
The Up-and-Coming: Tuna Patty (Burger)
Burger is another favourite among Malaysians. Virtually every nook and corner of the country has at least one burger stall, mostly operating after dark with rock music blasting away, adding to the unique characteristics of these independently-franchised establishments.
The juicy and flavourful taste of grilled meat—beef or chicken mostly—combined with fresh, crunchy salad and spicy sweet and sour sauce mix sandwiched between two halves of a fluffy bun, all collaborating in your mouth to create a sensation most welcomed by a hungry tummy.
Dr.Tuna™ Tuna Patty will be a healthy addition to those Abang Burger's menu, a nice change for those loving the taste but concerned about the calories. The meaty flesh of the yellowfin tuna blends well with other ingredients and provides the same satisfaction—if not more—as our normal sidewalk burgers.
Do watch out for updates on this product!
Direct contact us now for more details…