our export quality product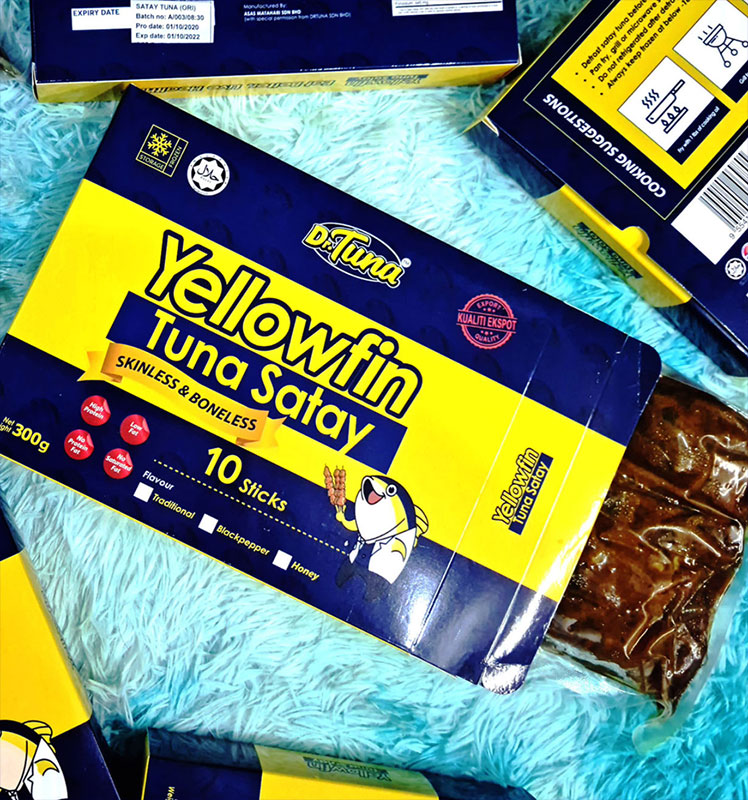 Yellowfin Tuna Satay (Meat on Skewer)
Satay is a seasoned, skewered and grilled meat served with a sauce which is very popular in Southeast Asia especially in Malaysia, Indonesia, Singapore and Brunei. The type of meat used is normally beef, chicken or lamb, and the sauce is typically made from ground peanuts.
Dr.Tuna™ Satay is seasoned with coriander, cumin, lemongrass, shallot, tumeric, ginger and other permitted flavouring to give it an authentic satay taste.
Dr.Tuna™ Satay is vacuum-packed and frozen in a pack of 10 sticks, with each stick weighs around 30 gram. You can cook the satay on a pan or in a microwave, or stick to old-fashioned method of satay preparation—grill it. For the more health-conscious consumers, you may even cook it in an air fryer.
Dr.Tuna™ Satay comes with complete HALAL Certification by the Department of Islamic Development of Malaysia (JAKIM), Hazard Analysis Critical Control Point (HACCP) Certification and Good Manufacturing Practice (GMP) Certification.
Our main product for export is the Yellowfin Tuna Satay. Currently we send the satay to South Korea. The minimum order quantity (MOQ) is one container, which is equivalent to 20,000 packs of Yellowfin Tuna Satay.
Our factory's capability is about 10 containers per month.
YELLOWFIN TUNA SATAY
Skinless & boneless
10 Sticks (gross weight 390g | net weight 300g)
INGREDIENTS
Yellowfin Tuna, Sugar, Peanut, Sunflower Oil, Coriander Powder, Cumin Powder (White Cumin Powder & Sweet Cumin Powder), Lemongrass, Shallot, Brown Sugar, Tumeric Powder, Ginger, Seasoning 3.8% (Salt, Tapioca Starch, Sugar, Garlic, Anchovy, Onion, Spices. Contains Monosodium Glutamate As Permitted Flavour Enhancer. Contains Permitted Flavouring (Contains Celery).
All additives are of plant or synthenic origin.), Garlic
For allergen see ingredients in Bold
STORAGE
Keep at frozen tempreture -18 C
Barcode : 9554100469805
For more information,
please do not hesitate to contact us